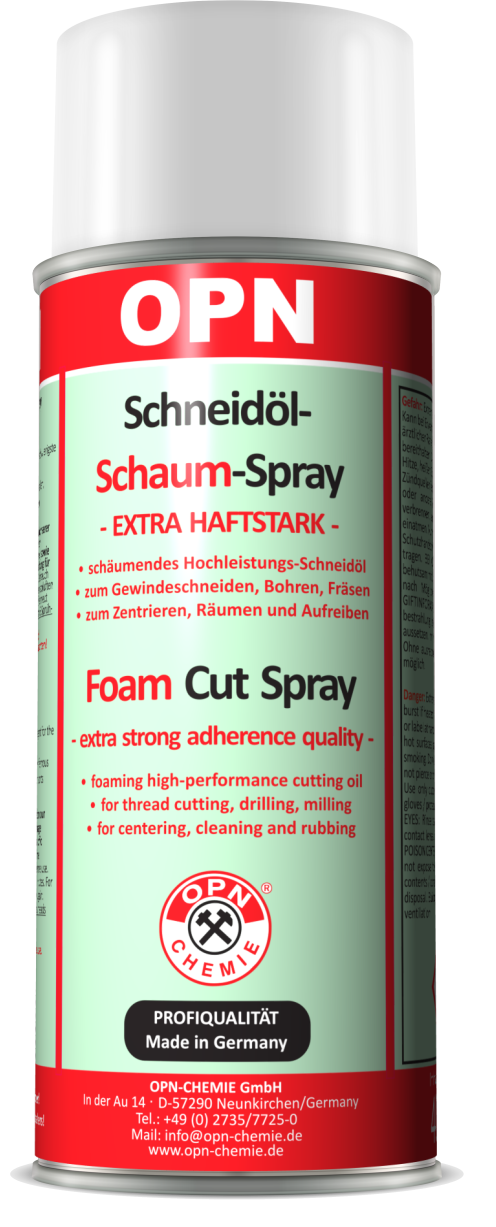 Das im Bild dargestellte Produkt kann vom verkauften Produkt abweichen.
Alle Texte unterliegen dem Copyright der OPN-CHEMIE GmbH.
OPN-Foam Cut Spray
Weitere Informationen
– extra strong adherence quality –
• foaming high performance cutting oil
• for thread cutting, drilling, milling
• for centering, clearing and rubbing
Properties
foaming, extra strong adhering high performance cutting oil with additives – therefore directed, economical and rational to process
stable adherence-foam, thereby very strong adherence on the cutting tools
can also be applied overhead
life time of tools will be raised
very good cooling effect
sulfur-free, mineral oil free
washable with water – no expensive degreasing-works
nearly compatible with all water-miscible cooling lubricants
Application Range:
strong adhesive high-performance cutting agent for the most difficult maching tasks
useable for drilling, cutting, clearing, sinking etc.
nearly useable at all precious metals and non-ferrous metals, nonalloyed and alloyed steel, casting sorts, such as die cast metal, cast steel, annealed cast iron, cast brass, red brass, copper, all chromenickel-alloys etc.