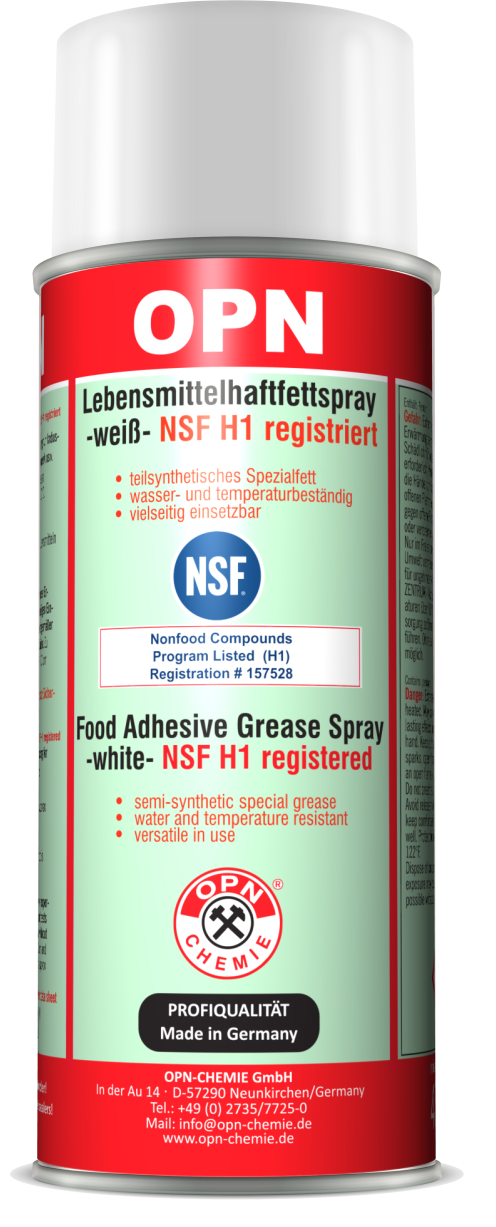 Das im Bild dargestellte Produkt kann vom verkauften Produkt abweichen.
Alle Texte unterliegen dem Copyright der OPN-CHEMIE GmbH.
OPN-Food Adhesive Grease Spray white NSF H1
Weitere Informationen
Nonfood Compounds Program Listed  Registration-No.: 157528 H1
semi-synthetic special grease
water and temperature resistant
versatile in use
 Properties:
effectively prevents rust, corrosion and seizing
temperature resistant from approx. -10°C up to approx. +120°C, for short time up to 180°C
not acid or alkali resistant
resin-, acid-, and silicone-free
dropping point: >200°C
Application Range:
can be used wherever incidental contact with food is possible
for lubrication of connectors, threaded parts and metal parts
reduces downtime, save spare parts
white all-round grease for maintenance and servicing for industry, food industry, breweries, cars, crafts etc.